Text size:


AAll these years later, Kamala still explains her name to America. It's a country whose diversity now encompasses names from all over the world – except among its most ardent nativists and racists, especially when it comes to non-white people. If you are white you can get away with any accent and any name – like Zbigniew Brzezinski or John Shalikashvili or Arnold Schwarzenegger. Not easy if you are a person of color. Writer and former NYT columnist Anand Giridharadas once recounted how a radio host continued to mispronounce his name even after it was corrected. "You know, you have no problem saying Dostoyevsky and Tchaikovsky," complained Giridharadas to the host, who responded by claiming that he had learned to pronounce Dostoevsky and Tchaikovsky because both were famous.
Giridharadas is concerned that it has not to do with names but with whiteness. "There are a lot of complicated names of Polish, Russian, Italian and German origin that have become second nature to Americans," he said, arguing that the "unusual" names mentioned in the Dear Abby column are not are not unique in their complexity. . They just tend to come from places where people are not white. In fact, there is a lot of research on such nomenclatural discrimination. According to a study in the Journal of Experimental Social Psychology, the easier a name is to pronounce, the more it is judged positively and the better its carriers are economically. Polls show that applicants who submit resumes with white sounding names are more likely to get responses than those with foreign or black sounding names.
---
Read also: Kamala Harris' journey from 'Brahmin' to Blackhood is the rarest of the few
---
Perhaps anticipating being singled out for her race and ethnicity in a Trumpian world, Kamala went to great lengths to explain her name every time she ran for office. In her presidential pre-launch brief, she explains that her name is pronounced "comma", like the punctuation mark (much to the delight of the Bengalis, one might say; the South Indians pronounce it Ka-ma-la). "A lotus grows underwater, its flower rising above the surface while its roots are firmly planted in the bottom of the river," she writes in The truths we hold. In 2016, while running for the US Senate, she posted a campaign video that showed children explaining how to pronounce her name. "It's not CAM-EL-UH. It's not KUH-MAHL-UH. It's not KARMEL-UH, "the children say in the video, with each incorrect variation spelled out and crossed out on the screen.
America's racist and semi-literate hordes have chosen all the wrong variations and more – on purpose, in some cases. From conservative TV presenters and rabid radio jocks to right-wing trolls and some of his Senate Republican colleagues, mischievously mutilating Kamala's name has become a nativist pastime. Among the more gratuitous examples, Fox News demagogue Tucker Carlson, who not only mispronounced Kamala, but when a guest corrected it, contemptuously and contemptuously insisted that it was no big deal, forgetting the copulatory rhyme that his own name offered.
The Senate is hyperbolically called the world's greatest deliberative body, but has long been a melting pot of racism, misogyny and sexism. Kamala is no stranger to Perdue. They have worked together on the Senate Budget Committee since 2017. Barely a month before Georgia's second round, the Senate passed the bipartisan HBCU Propulsing Agency Relationships Towards a New Era of Results for Students (PARTNERS) law on December 11, 2020. If enacted, this legislation aims to strengthen partnerships between federal agencies and the country's more than 100 HBCUs, a cause close to Kamala's heart. The law was co-sponsored by Doug Jones, David Perdue, Kamala Harris, Roger Wicker, Tim Kaine and Marsha Blackburn. Perdue surely knew how to pronounce her name. Instead, he chose to join the verbal lynching mob, hoping to please an infant president whose weapon of choice, especially when it comes to strong immigrant women of color, is the derision and contempt. At the same rally, Perdue, a close ally of the US president, suggested that Trump was sent by God. 'This guy is providential. It didn't happen by accident, "Perdue said. "How in the world in our political system, Donald J. Trump could he come on the scene in 2016, do what he did? Tell me. God is watching.
---
Read also: Hindouphobia makes Kamala Harris's identity a handicap. She is therefore "black" in the American media.
---
Perdue has been criticized for her "otherness" of Kamala and for having mutilated her name. Even his pathetic attempt to clarify that he "just mispronounced" Senator Harris' name and "didn't mean anything by that" became the subject of viral music videos and mocking hashtags. This sparked a wave of immigrant stories that played directly into the "America of Possibilities" theme of the Biden-Harris post. Before the Georgia runoff – which according to karma Perdue lost to Jon Osoff, who is Jewish and less than half his age – Kamala's niece, Meena Harris, teamed up with the former Funny or die executive producer Brad Jenkins to revive the #MyNameIs campaign, heartbreaking Perdue. A chain of Asian Americans call their (own) names, jaws clenched, before Trump's abrupt withdrawal, playing on wacky images of his election defeat: "Well, senator, when you just mispronounced our names, we just voted against office Donald Trump. We just registered millions of voters. We just turned out in record numbers. But don't worry, senator, we don't mean anything by that. has approximately 2,38,000 eligible voters from the Asian-American Pacific Islands (AAPI) in Georgia.
On Twitter, the hashtag #MyNameIs was used by people of more recent immigration to assert their identity. '#MyNameIs Rohit, and my friends call me Ro. It means bright light in Sanskrit. This election, #IWillVote for an inclusive America by voting for @joebiden & @kamalaharris, "California Democrat Ro Khanna tweeted. '#MyName is Pramila. It comes from the Sanskrit word 'premâ' which means love. The name is constantly mispronounced, as is my last name. It only bothers me when it is done voluntarily and continuously. Let's build an inclusive America, "said Pramila Jayapal. Their colleague, California Congressman Ted Lieu tweeted: '#MyNameIs Ted W. Lieu. The "W" is the abbreviation of "Win-Ping" which in Mandarin means Cloud of Peace. '
Writers, actors and sportsmen joined them, including Amitav Ghosh: "My name Amitav means 'Infinite Light'. It is one of the names of the Buddha, hence Amida in Japanese, Emituo Fo in Chinese '; Kal Penn: "#MyName is Kalpen. I started going through Kal Penn to help me find a job and I'm more than happy to give @SenDavidPerdue some advice on finding a new one"; and Michelle Wing Kwan : '#MyNameIs Michelle Wing Kwan & in Chinese Pinyin, it is pronounced Guan Ying Shan. It means handsome, strong and intelligent. What is not beautiful, strong or intelligent is to make fun of ppl for their names " foreign sounding. "Join me in voting for @JoeBiden @KamalaHarris'.
---
Read also: What's in a name? A lot, if it's Kamala Harris
---
If the willful mispronunciation of Kamala's name had helped immigrants rediscover the roots and origin of their names, it was a thin cover for a deeper American conservative malaise: the inability or reluctance of racist-nativist groups. to embrace the demographic changes in the country, dubbed the 'browning of America' in some circles. The result of these changes was beginning to appear on Capitol Hill itself, where more recently elected lawmakers included Somali American Ilhan Omar, Palestinian American Rashida Tlaib and Hispanic American Alexandra Ocasio-Cortez. Nicknamed "The Squad," they were progressive Democratic representatives whom Trump and his racist pack shamelessly viewed as strangers. "Why don't they return and don't they help mend the totally broken and crime infested places where they come from? Then come back and show us how ent it's done. These places are in dire need of your help, you cannot leave fast enough. I'm sure Nancy Pelosi would be very happy to find free travel arrangements quickly! ' Trump raged once during the 2020 campaign.
The racism and bigotry were obvious: these women of color did not belong to America, they were intruders. Just in case anyone thinks Trump was referring to minority-dominated Democratic cities like New York or Detroit when he asked these women to go and fix the places they came from, he has it. put to rest in one of her trademark Twitter tirades: "So interesting to see women in Congress 'progressive' Democrats, from countries whose governments are a complete and utter disaster, the worst, the most corrupt and the most inept at the world (if they even have a functioning government), now loudly and viciously telling the people of the United States, the greatest and most powerful nation on earth, how our government is to be run. 'a pandemic that he had managed in a disastrous way according to most accounts.
Kamala stayed above the slush and the pig fight that Trump's Republicans wanted to drag her into. She called the deliberate mispronunciation of her name "childish games", while explaining in an interview with the Daily Show that as far as she is concerned, a person's name is "precious and sacred" and is "informed by tradition and love ". Contrary to Trump's intentions when he proudly baptized his opponents with caricatured names: "Crooked Hillary", "Sleepy Joe", "Mini Mike", "Lyin 'Ted". For Kamala, he opted for 'Phony Kamala'.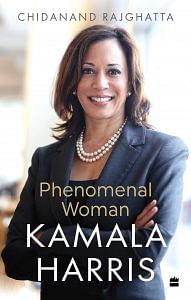 This excerpt from "Kamala Harris: Phenomenal Woman" by Chidanand Rajghatta was published with the permission of Harper Collins India.
Subscribe to our channels on Youtube & Telegram
Why the news media is in crisis and how to fix it
India is all the more in need of free, fair, uninhibited and questioning journalism as it is facing multiple crises.
But the news media are in a crisis of their own. There have been brutal layoffs and pay cuts. The best of journalism is shrinking, giving in to crass spectacle in prime time.
ThePrint employs the best young reporters, columnists and editors. Supporting journalism of this quality requires smart, thoughtful people like you to pay the price. Whether you live in India or abroad, you can do it here.
Support our journalism
Source link